PAINT & COLLISION SERVICES
---
You can expect excellent personal service and expert vehicle care. Integrated Collision & Truck Specialists believe in providing you with the best Paint and Collision service experience and quality work through your repair process.
Color Matching
If your vehicle needs automotive paint and refinishing – we've got you covered. Our technicians are well versed with top-notch color paint matching your paint color with environmentally safe paint products. Our technicians search an extensive database of color formulas from our technically advanced computer systems to match your vehicle's color. This user-friendly software platform is designed to make color formula retrieval and reporting quick and easy with accurate results each and every time.
Our product are environmentally-friendly and achieve optimum quality leaving you satisfied with your automotive paint and refinishing needs. We are so confident in our workmanship, not only will you walk away with a positive auto collision repair experience, the work is also backed by a Lifetime Warranty for as long as you own the vehicle.
Minor and Major Collision Repair
At Integrated Collision & Truck Specialists you will receive high-quality results, with low overhead from an owner-operated business, where pride and quality workmanship will always be passed on to you.
With years of automotive collision expertise, our staff can proudly say they are true collision experts delivering top-notch minor or major collision repair services each and every time. When you trust your vehicle's repairs to Integrated Collision & Truck Specialists, you are guaranteed quality workmanship and attention to every detail. All of our certified technicians are specialize in automotive paint, RV collision repair service, small sandblasting repairs, metal fabrication, and more whether it's big or small.
Because of our high standards in auto collision repair, we have developed an excellent reputation within the industry by following a proven repair process.
Paintless Dent Repair
If you need fast, effective and inexpensive dent repairs for your vehicle, you're going to love the paintless dent repair services at Integrated Collision & Truck Specilaists. Our collision center is operated by skilled and experienced technicians who have all the innovative tools they need to remove door dings and other minor dent damage.
Save time and money with the Benefits of Paintless Dent Repair. Traditional dent repair techniques are relatively slow and expensive. They work by filling in the hole a dent leaves with paint or a chemical compound and painting over it to match the surrounding paint color. The dent isn't fixed; it's just covered up. Paintless dent repair fixes the structure of the chassis by applying a low amount of pressure. When complete, it gives you a smooth surface that requires no extra paint or substances.
Let us know how we can help with paint and collision services! Contact us, get an estimate or make an appointment.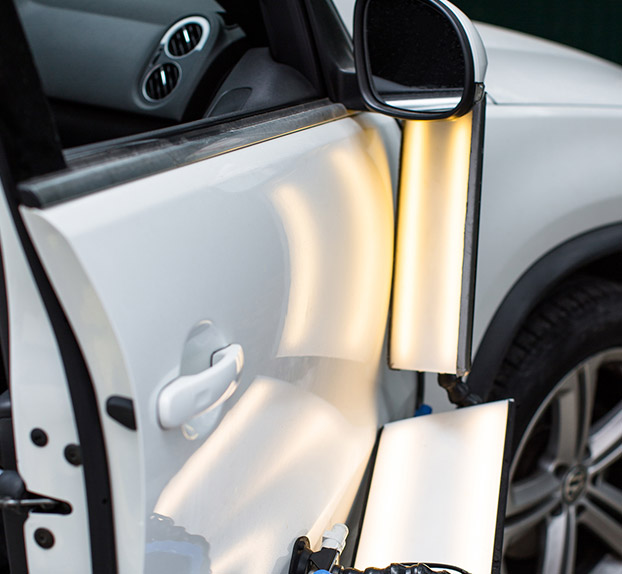 Schedule an Appointment